Simala Shrine in Sibonga Cebu
Before we experienced our close encounter of the Whale Shark in Oslob, we visited first one of the famous sacred church in Cebu, the Simala Church. Simala Shrine or the Monastery of the Holy Eucharist is located at Marian Hills, Lindogon Sibongan, Cebu which is 2 hours travel from Cebu City. The Monastery is the place where the 'Mga Monghe ni Maria' [Monks of Mary] lives. The place is extremely nice, solemn and is operated by the monks.
We could not deny that we believed in miracles, Silama is among of the places where miracles were happened. Simala Shrine is known for its miraculous place where Virgin Mary cried long time ago but aside on this, the place is also known for it's truly amazing and spectacular. The Simala Shrine is like a castle from afar, that's what I described this awesome and miraculous place.
We really amazed as we get inside to the Simala Shrine because you will see the different statues of the Blessed Virgin Mary from different places and represents the different culture and replicas from different places/provinces of the Philippines and even replicas of Virgin Mary from other countries.
Inside the Simala church, you get to read all over the bulletins overwhelming testimonials from people who have been cured or miraculously survived, serious illnesses and those who have successfully hurdled (dreaded) national licensure examinations. Some of them left their crutches, wheelchairs, and school nameplates. They are beyond grateful for having been given a second chance at life or for all the guidance leading to their victory. You will see also a lot of things on display as a proof of Mother Mary's miracles to the lives of the devotees. The place is very peaceful and it is a good place to show your faithfulness to Mama Mary, although it is far from the City. Most people who visit Simala Church, will have their wishes granted. Others will have their lives changed and experience different other miracles.
The European Cathedral design from the south of Cebu become popular and travelers and tourists droves to Simala Shrine in Lindogon, Sibong to witness how wonderful the architectural structure of this miraculous church and also pray their concerns in life give thanks for their blessings.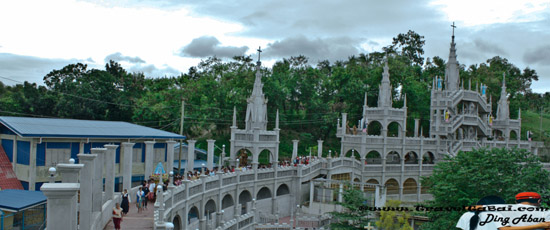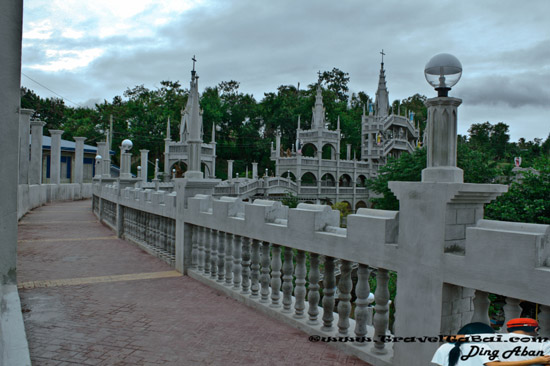 The whole place is still in the process of improving its structure and they are working on expanding the place to make more tourists visit the place. The monks are now building their monastery at the side of the church but due to some financial constraints, it will take some time before it will rise. However, it is incredible how the place had developed from a simple hut to what it is right now.
How to go to Simala Church:
Option A:
From Cebu City
Go to South Bus Terminal near the Elizabeth Mall or also known as "E-mall" and ride a Bus there going to Sibonga. Don't worry about when and where you're going to STOP, just inform the drivers to stop you at the road that will lead you going to Simala Church. (Fare is 80 pesos)
This trip is a 2 hour and a half hour ride from Cebu so you better bring some water and foods with you.
The Safe Sanctuary of Mother Mary is 5 kms away from the Highway from the Bus drop point and you need a motorcycle ride or the famous "Habal-habal ", going to the Simala Church.
Option B:
In front of South Bus Terminal is a gasoline station where Van for hire are available, this van for hire has a fare of 100 pesos but they will take you straight all the way to the shrine.
The travel is approximately 2 hours
There are also cottages there for free and it is available for everyone, for families or group of friends who brought with them their packed lunches.
Mass Schedule of Simala Church
Sundays – 12 Noons and 3 PM
Mondays to Fridays 12 Noon
Saturdays – 10:30 AM
13th of the Month – 10:30 AM and 3:30 PM
Tips:
If you have to visit Simala Church, I suggest that you will visit on the 13th day of every month because the priests will bless the oil while the local called it "Lana".
Avoid Friday, Saturday and Sunday if you don't w

ant too crowded
Comments
comments
Posted by
admin
on May 11 2014. Filed under
Adventures
,
Cebu
,
Tourist Spots
. You can follow any responses to this entry through the
RSS 2.0
. You can leave a response or trackback to this entry